Homemade Superhero Cape and Mask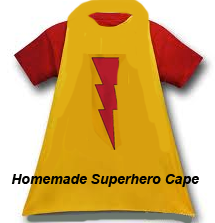 Homemade Superhero Cape and Mask Tutorial
Almost every child, boy or girl, loves to live out the dream of being a superhero.  Once the cape goes on, the kids immediately start running around the yard as if they are really flying!  Ah, to be a kid again.
Here's a Superhero Cape and Mask tutorial that is made from an old tshirt!  No sewing required!  Don't cut those shirts up in rags, instead try this!
Here's how you make it:
First, get an adult sized shirt and start cutting around the front part of the shirt at the neckline.  You are keeping the neckline collar part of the shirt.  You have two options:  a) you can keep it in a circle and just have your child slip the completed cape over their head or b) you can cut it in the middle and make it a tie-able at the front.
On the back side of the shirt you are going to cut off the sleeves and connect the front cut to the cut you already made on the collar.  That will be the final cut for the cape part.
To cut the mask, cut off a portion of the sleeve and measure it to the childs head to find exactly were you should cut out the holes for the eyes.  The sleeve will fit nice and snug over the childs head to complete the no sew mask.  All you need now is to decorate them.
Now that you've made all the cuts you need, the cape and mask are done.  Last thing you will want to do is decorate them.
You have a couple of options for decorating them.  I tend to include my kids and they usually take over this part, as they can be very strong willed and know exactly what they want.  I can tell you right now that they girls will want glitter for sure!
Here's a photo I found on Pinterest for an adorable girls cape: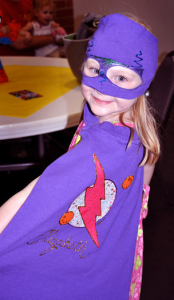 Photo Credit:  apartmenttherapy.com
I would suggest drawing or painting a simple lightening bolt design with fabric paint or you could get some iron on adhesive and cut out a lightening bolt from another old shirt of a different color.
If you decide to use fabric paint, I would highly suggest using the fabric pens or fabric markers. You can pick these up at your local craft store and I've even seen them at Walmart too.
Here are a few I saw on Amazon (to give you an idea)

Enjoy!