Mother's Day Gift Ideas Round Up
Mother's Day is right around the corner!  Time to get those creative juices flowing for gift ideas.  I've been inspired by so many different artists that I had to do a post round up to show them all to you!  The hardest part is choosing my favorite.  Here's a round up of some really cute Mother's Day gift ideas for you. (and me!)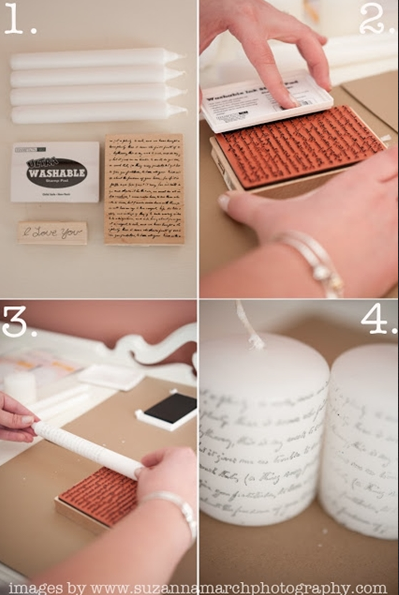 (Photo Credit:  Suzanna March Photography)
DIY Stamped Candle
This project is simple yet elegant at the same time.  Grab a plain white candle and stamp your favorite poem, prayer or quote on to it for a beautiful Mother's Day Gift idea.  The hardest part about this project is finding the write quote!  Grab a black ink pad, rubber stamp and candle and you are good to go!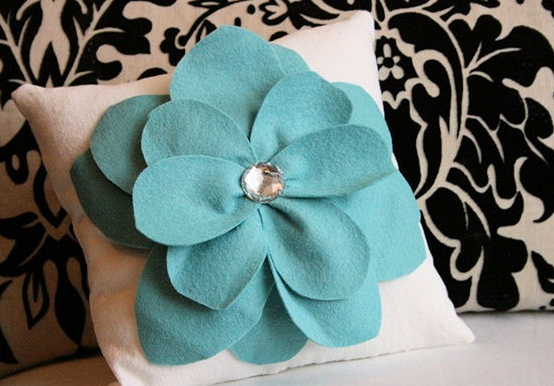 (Photo Credit:  Jones Design Company)
Gathered Fabric flowers are very much in right now but don't just think of a pillow embellishment, think hair clip, shoe clip or even a purse clip with one of these adorable gathered fabric flowers!  You can make them as small as you want or as big as you want.  I would clip one of these to my purse any day!  Super cute Mother's Day gift idea!  Wouldn't you agree?!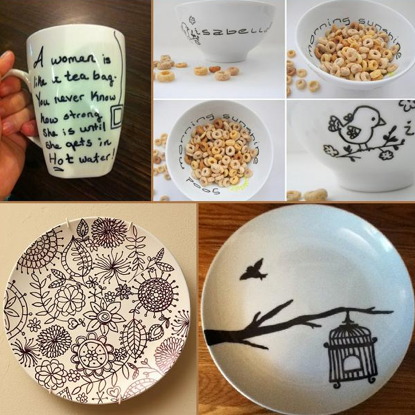 (Photo Credit:  Lynn-Babysteps)
Sharpie Mug Design
The kids can go crazy with this idea!  Grab a sharpie marker and a plain white mug and tell Mom what you love best about her!  I've seen all kinds of plain white dishes at the Dollar Store too.  All you have to do is design your mug, place it in the oven at 350 degrees for 30 minutes, and let it cool!  Voila!  Done!  This would also be a really good idea for Dad's or even Teachers too!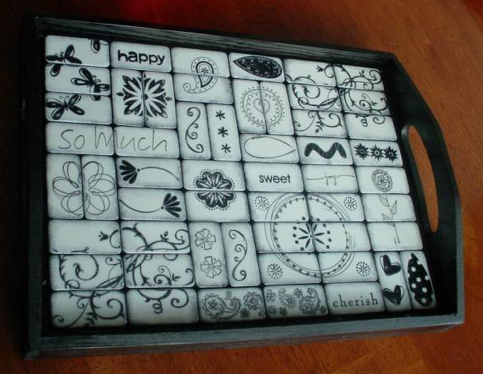 Stamped Dominos Serving Tray
This would make a super cute idea for Mother's Day!  After you create her gift, you could serve breakfast or brunch on it too!  Head over here to see the full tutorial for this project.
The has a very elegant black serving tray with each domino hand stamped in a different design.  You could get really creative with this one!  All you need for this one is a set of Dominos, glue gun, an ink pad, and some rubber stamps!  If you are really good at drawing you could possible even use a sharpie.  Don't forget to finish your project with a spray sealer to protect the ink from day to day use.
Here are a few more ideas for a serving tray.  You could paint it in a chalk board paint and write your favorite quote.  I've also seen these done in a mosaic fashion with broken pieces of sea glass or even broken pieces of fine china!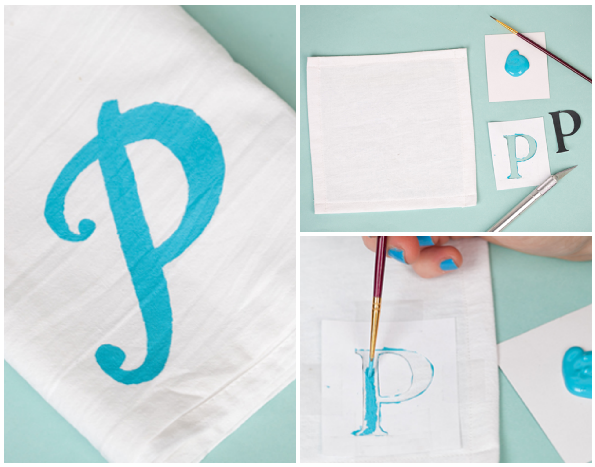 (photo credit:  Sugar and Charm)
Monogrammed Napkins
Try monogrammed napkins as a gift idea!  How cute is that?!!  I just purchased a very inexpensive set of 6 plain white dinner napkins so I could do this for myself.  All you need is a stencil (unless you have a steady hand and you can trace the letter out), acrylic fabric paint and a set of plain white napkins.  Paint your design and let it dry.  The key is to use fabric paints as seen here.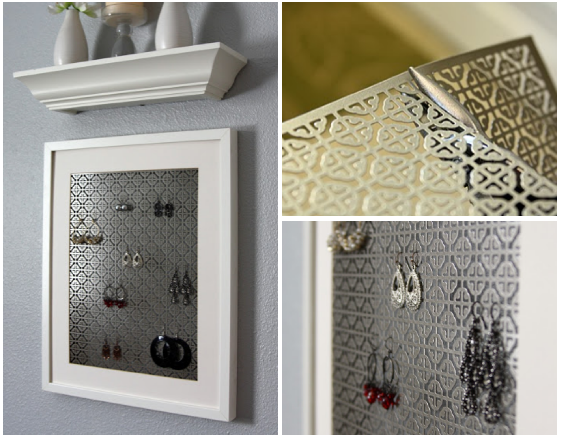 (photo credit:  iheart organizing)

Framed Jewelry Display
What a clever way to organize your jewelry!  Better yet, what a neat Mother's Day Gift idea!  This is a simple Radiator grate that has been framed in a photo frame and hung on the way for a beautiful display of your jewelry!  Here's what a radiator grate looks like here and these can be found on Amazon or check out your local hardware store.   You can get creative with the colors of this grate too.  I ended up painting one of mine a hot pink and another one an aqua color!  Be sure to use a Krylon paint that can be used on metal like these seen here.  The frames can be found at the Dollar store.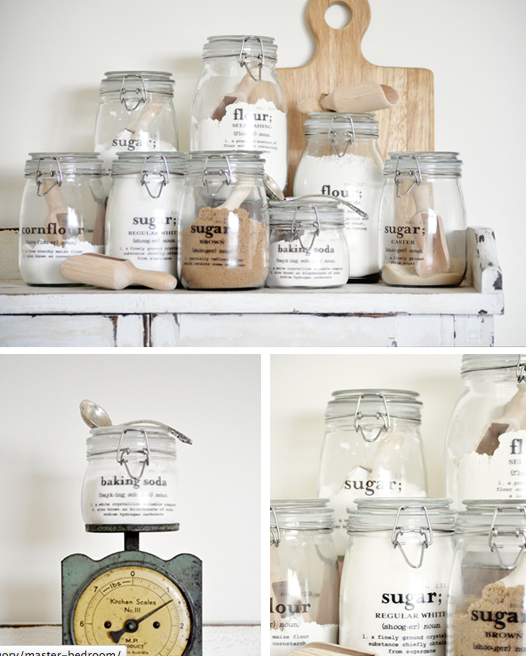 (photo credit:  the painted hive)
DIY Cannister Decals
This is a fun gift idea for Mom!  Decorate a set of simple cannisters for her kitchen.   You can make your own decals or you can simply purchase some super cute ones here on Amazon  or a bunch of different designs here too.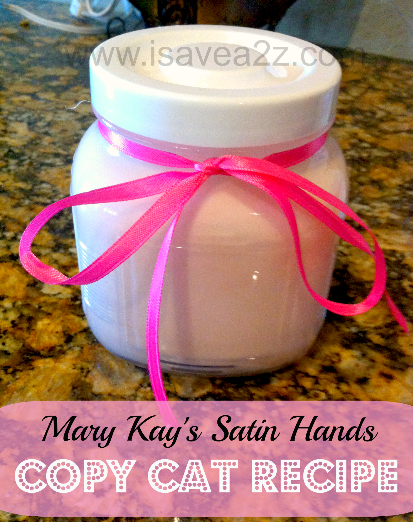 Mary Kay's Satin Hands Copycat recipe
And of course…  One of my favorite Sugar Scrub recipes is the Mary Kay's Satin Hands Copycat recipe found here.  I use this recipe over and over again and I never get sick of it.  I have the softest hands ever.  Sugar scrubs are very popular and make the perfect gift ideas for Mom's!
Enjoy!