Step by Step Instructions for Dining Room Chair ReUpholstery! No Sewing Required!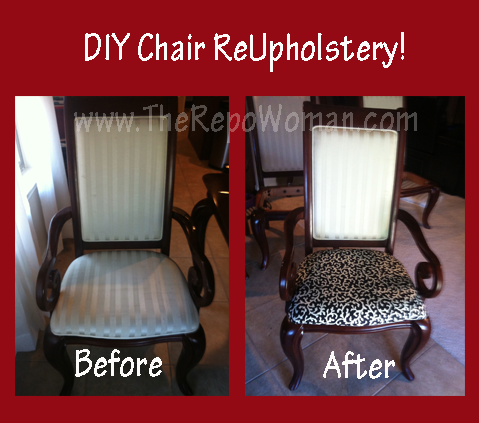 Do It Yourself Chair ReUpholstery
Why not give your dining room chairs a new look!  I purchased this absolutely gorgeous dining room set at a garage sale about a year ago.  The couple I purchased it from was moving and they couldn't take it with them.
I love the elegant look of this dining room table but I was sick and tired of cleaning the off white chairs after every meal (well… almost every meal) so I decide to spice things up a bit and change out the seat covers!
This project is pretty darn simple to do and I would rank it as a beginners project for sure!  So, put all fear aside and head off to the fabric store and pick out some snazzy fabric and do your chairs too!
My dining room table has six chairs and they are bigger than the average dining room chair size too.  I purchased 2 1/2 yards of fabric and used almost every bit of it!  I ended up purchasing upholstery fabric that was marked down by 50% but you can choose any fabric you want!  Let's get started, shall we?!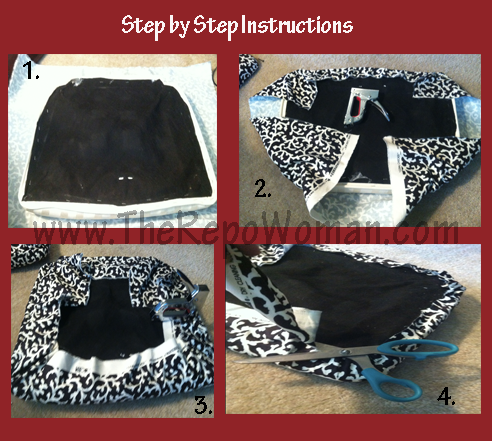 Instructions for a DIY Chair ReUpholstery:
I started off by flipping my chair over and finding the four screws that secured the seat part. Remove the seat.
Step 1: I cut the fabric to the measurement of the chair by flipping the chair seat upside down and cutting about 2 inches extra around the shape of the chair.
Step 2: I pulled the corners of the fabric and stapled just the corners. Be sure to pull the fabric tight so it won't leave creases or wrinkling in the fabric chair. Note: I used a small upholstery staple gun I found at my local hardware store.
Step 3: pull the fabric tightly around the edges and staple about 1 inch apart for every part of the fabric you pull (Staple it closer if necessary)
Step 4: Once the fabric is completely stapled all around the seat, cut off the excess fabric so it doesn't show underneath the chair. Voila! That's it! All you have left to do is screw the seat back onto the chair!
This is such an easy project that I would not pay anyone to reupholster your chairs! I tend to change out the fabric often (about once a year or more depending on my mood and my budget!)
Project Costs:  
Small Upholstery Gun $9.47
Staples $2.12
2 1/2 yards of Fabric (Reg Price of $26.99 but I got it at 50% off) $33.75
Total:  $45.34
Stay Tuned for Part two of this project! I really don't like the cream colored fabric at all!  I plan to change the color of the top part of this chair but, I don't plan to use more fabric. I plan to paint the fabric that's on there!  UPDATE: Instructions have been posted and my final results of my painted chair HERE.
Enjoy!