Discover the Benefits of Biotin! Best Hair, Best Nails and it will Boost Weight Loss too!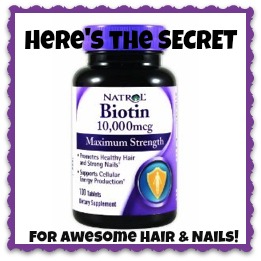 Boy, have I got some good information for you!  Biotin is one of the best vitamin supplements you can take for better looking hair, stronger nails and it will even boost your energy by converting fats, carbs and proteins into energy!
I was absolutely ecstatic about my results and just felt the need to tell you about this important information (in case you didn't already know).  I've been taking Biotin for about a month now and I noticed a huge difference in my nails after the first week!  My nails used to be so weak that you could bend them!  They also used to split or chip too.  Not anymore!  Yay!
I've also noticed a major difference in my hair!  For you ladies that have thinning hair or maybe even hair that doesn't grow very fast, listen up!   I swear my hair would not grow past my shoulder level for some reason…  I've always wanted longer hair but for some reason when it gets to my shoulder length it would go brittle or have so many split ends that I had to get it cut!  I am happy to report my hair is finally long enough to put up in a pony tail!  WAHOO!
Finally, Biotin is essential for the conversion of fats, carbs and proteins into energy too!  This can be a great advantage to those interested in losing weight, as the body will be more efficient at using it's supplies of fat and carbohydrates during exercising.  Now I haven't lost any major weight while taking Biotin but I have noticed the energy boost!  It was definitely worth mentioning.
I cannot believe Biotin is not promoted as a freakin' miracle vitamin!  Seriously!
The recommended daily amount of Biotin is only 300 mcg, which is easily achievable in most diets, but there seems to be no evidence to suggest that ingesting more than this level can be harmful to the body. Indeed, in some cases, it can be a benefit.
I've been taking the Biotin 10,000 mcg, Maximum strength as seen here on Amazon.
Enjoy!