No Bake Ice Cream Sandwich Cake Recipe! Easy and Fun!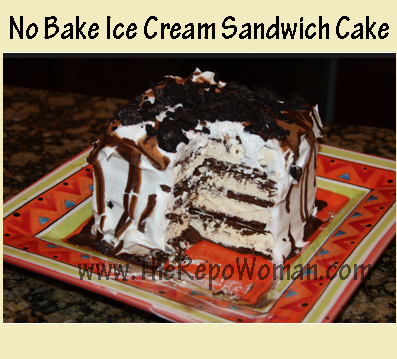 No Bake Ice Cream Sandwich Cake Recipe
Ahhh…  what Mom doesn't like the words "no bake" recipe!  lol…  You have got to try the Ice Cream Sandwich Cake recipe that was originally posted over at iSaveA2Z.com.  This will be one of the easiest cakes you ever make and your guest will rave about it for days!!!    Grab the kiddo's and give it a try!   The kids will even insist they do it for you!
Ingredients
1 box of twelve Ice Cream Sandwiches (or two boxes for a large cake)
1 tub of Whipping Cream
Magic Shell Caramel
Magic Shell Chocolate
TIP #1:  The generic ice cream sandwiches tend to have a crunchier cookie type taste and may be a bit tougher to cut.  I find the name brand sandwiches have more of a cake type sandwich shell and make it very easy to cut.  If you like the crunchy shell, I would suggest you freeze the cake for at least 2 hours before you are ready to serve it so the other ingredients are not soft when you go to cut it.  Both taste good, so it's a matter of preference.
TIP #2:  Instead of stacking the ice cream sandwiches on a plate, you could also layer them in a cake pan too.  I ended up with an odd number of ice cream sandwiches one time (there must have been an ice cream sandwich monster in the house one night) and I couldn't make a complete square so I ended up cutting the sandwiches in half on one side to make them fit in a cake pan.
Optional Ingredients:
Oreo Cookies (crumbled into pieces)
Candy bars (diced into pieces)  Snickers, Hersheys, Twix, Reeses, M&M's, Nestle Crunch, etc…  (My favorite is the Skor chocolate candy bar because the inside hardened caramel center gives a nice crunch)
Nuts
Directions:
I start off by unwrapping all the ice cream sandwiches and stacking them layer by layer but each layer if faced an opposite direction as the one before.  Drizzle Magic Shell between each layer.  This provides a glue to hold the layers together.  (Tip:  I find the higher I make this, the more elegant it looks)
After I've completed all of my layers, I spread Whip Cream on the top and sides of the cake.
Note:  Make sure the Whip Cream is at room temperature so it's easy to spread.  Microwaving it will make a mess (I speak from experience!)
After it is completely covered in Whip Cream, I drizzle Caramel and Chocolate Magic Shell topping over the top of the cake and purposely let it drizzle down the sides of the cake too.
Finally, you put all the toppings you desire on the top of the cake!  The more you add the richer the cake becomes.  You can finish the cake at this stage too.  Once finished, place it in the freezer for about 20 minutes to make sure it freezes again before you cut into it.
It has an elegant look to in when you cut into it and it tastes absolutely scrumptious!!!  The below photo has Oreo Cookies strangled over the top!  KIDS LOVE IT!!!
Enjoy!