Homemade Corn Relish Recipe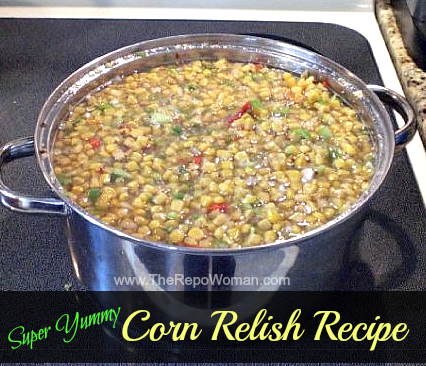 Homemade Corn Relish Recipe
This is one of the best homemade Corn Relish Recipes I have ever tried.  It makes enough to share with friends or even give as gifts!  It's addicting too though…  Everytime we open a jar it doesn't last but a day or two!  We eat it with almost everything from baked chicken, add it to our hamburgers, or even just with a plain chip is delicious too!
Homemade Corn Relish Recipe
Author:
Prep time:
Cook time:
Total time:
Ingredients
5 cans or whole kernel corn
2 pounds tomatoes – peeled, seeded, and coarsely chopped
1 1/2 cups chopped green bell peppers
3/4 cup chopped red bell pepper
1/2 cucumber, chopped
1 cup chopped onion
1 cup white sugar
2 cups apple cider vinegar
1 tablespoon salt
1 teaspoon celery seed
1 teaspoon mustard seed
Instructions
In a large sauce pan, mix the corn, juice, tomatoes, green bell peppers, red bell peppers, cucumber and onion.
In a separate medium bowl, mix the sugar, apple cider vinegar, salt, celery seed and mustard seed.
Pour the mixture into the sauce pan and bring it to a boil.
Reduce the heat and let it simmer on low for about 1 hour.
Transfer the relish in to sterile jars for canning. Refrigerate until it's ready to serve.
This recipe made about 8 jars of relish (small jars or about 5 large jars)
Enjoy!