Best Twinkies Copy Cat Recipe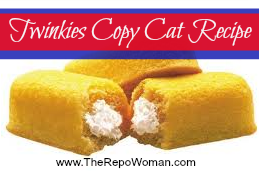 Best Twinkies Copy Cat Recipe
Thank goodness we have a Twinkies cupcake Recipe!  How would you like to make your very own Twinkies Hostess cakes at home?!
Hostess, the maker of Twinkies, Ding Dongs and Wonder Bread announced the closing of its doors. What a sad day for a long time business.
For those die hard Hostess Twinkies Fans, here's your way to make your own! This one is an easy recipe and delicious too!
The hardest part would be making the cake mold but you could easily order a Cream Canoe pan too. It even comes with a 9 piece decorating set too.
Best Twinkies Copy Cake Recipe
Author:
Prep time:
Cook time:
Total time:
Best Twinkies Copy Cat Recipe
Ingredients
Cake:
nonstick spray
4 egg whites only
1 – 16 oz box of pound cake mix of your choice
2/3 cup of water
Filling
2 teaspoons of hot water
1/4 teaspoon of kosher salt (kosher salt is a milder flavor)
2 cups of marshmallow screen (I use the Jetpuffed)
1/3 cup of shortening (plain, not buttered)
1/3 cup powdered sugar
1/2 teaspoon vanilla
Instructions
Preheat the oven to 325 degrees f.
Use a molded pan (as seen in my post) or create your own molds by wrapping a square seasoning jar around tin foil to create the mold shape. Place these molds that you create, side by side on a cookie sheet.
Start making the cake part:
Beat the egg whites until stiff (it should peak when you lift your blender beaters up from the egg whites)
In a separate bowl, mix together the cake mix and water. After it's blended with no lumps (about 2 minutes) fold in the egg whites.
Pour the batter into the molds, filling each mold about 3/4 of an inch.
Bake for about 30 minutes or until golden brown.
Let the cakes cool before filling them.
Create the Filling:
Combine salt with the hot water in a small bowl. Stir it long enough for the salt to dissolve. Let cool.
Combine the marshmallow creme, shortening, powdered sugar, and vanilla in a medium bowl and mix with a blender until fluffy.
Next, add the salt water mixture in the last step of blending the filling.
Fill the cooled pound cakes with this filling by poking three holes in the bottom of each cake. I used a straw to do this. I moved the straw around to open the inside of the cake part leaving the hole the same size as the straw.
Use a pastry bag to insert the filling mixture into the holes you just created.
Enjoy!