DIY Watermelon Drink Dispenser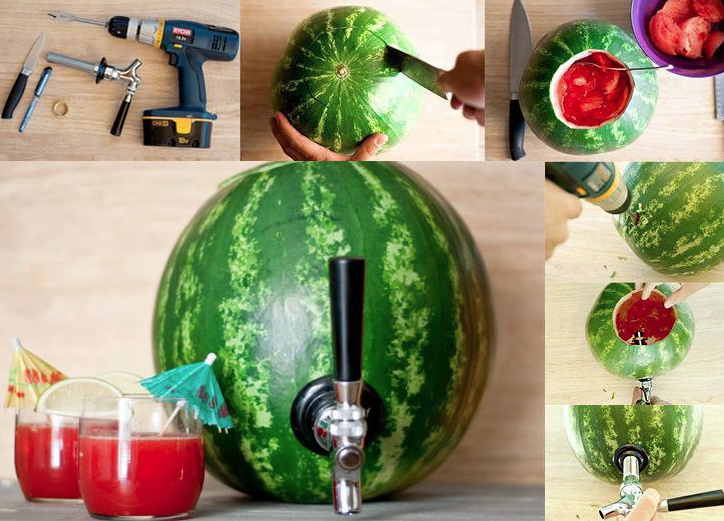 Author:  SheKnows
DIY Watermelon Drink Dispenser
What a clever idea!  A watermelon drink dispenser!  How cool is that?!!  This could be a fun idea for a kids party or even an adult party with grown up drinks too!  Look out Summer BBQ Parties!
Basically you are turning the whole watermelon into a drink dispenser by carving out the watermelon and adding a tapper to it!
Items needed:
Large Watermelon
Sharp Knife
Scoop
Bowl
Pen
Power drill with a 3/4 inch drill bit
Directions:
Cut a hole in the top of the watermelon and scoop out the good stuff.  (The cut part will be the lid)  Make sure you stand the watermelon up on its side to get it as level as possible so you know which end to cut.
Next mark the spot you want your faucet to be.  Drill a hole for the faucet.
Carefully insert the shank into the watermelon but be very careful not to force it.  It could break.  The shank needs to fit snug to avoid leakage.
Next slide the O-ring on along with the adapter.
Finally, test your watermelon for leaks.
Now fill it with your favorite beverage!  (Don't waste all the watermelon you scooped out.  Puree it and add some other fruit juices to it to create a custom drink!)
Enjoy!!!
If you enjoyed this recipe, you may also want to check out this Shark Watermelon Tutorial!