DIY Large Photo Print! Cheap and Easy Craft project!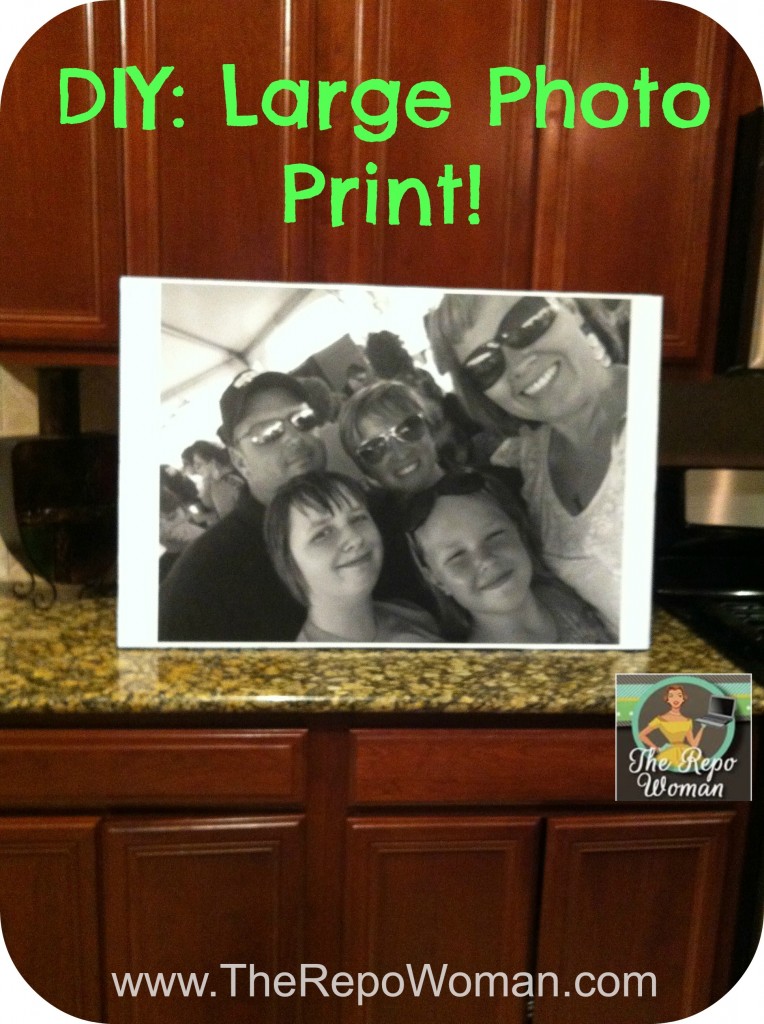 DIY Large Photo Print on a budget!
Try this DIY Large Photo Print!  I was shopping for some printer ink at my local office store and saw this gentleman printing a blue print.  It was printed on this humongous printer!  I got to talking with the lady who ran the printer and asked what other items can be printed on that big and expensive machine?  She says she can print just about anything in black and white or color!
I had the most amazing idea!  Why not try and print a family photo in that big format?!  Next question was…  how to hang it and with what?
I live in a neighborhood that is up and coming and new houses are popping up everywhere!  There's tons of construction happening!  I happen to find a scrap piece of foam board that was being thrown away!  Ding! ding! ding!  I had the exact idea of how I was gonna hang that photo that I was thinking about!  I grabbed that foam board and my printed photo and got to work!
It turns out that I was able to create my very own Large Printed Photo for only $4!!!
Supplies needed for this project:
1/2 inch thick Styro-Foam Board (found at my local hardware store)
3M Adhesive spray (best invention ever!)
Acrylic Paint (similar to these found on Amazon)
Here's how I did it:
First, I copied my photo on to a USB and ran it over to my l0cal office supply store (mine was Office Max but I know Staples and many others will do this too) and asked for an "engineers print" of my photo.  The print size was 36″ wide but they would print up to 48″ wide!  I opted for the black and white because it was $3.99.  If I would have opted for color, it would have cost a lot more!
The lady helping me printed the first one incorrectly.  She accidently put the printer on the wrong setting.  I looked at the photo and asked if it could be printed on thicker paper and it could (for the same price!)  This poor lady was new to these machines and printed it as a brown color, a blue color, a grey color and finally, a black and white color after she got some help.  I felt so bad for her.  I was extremely patient as she was learning.  (Tip:  ask for the thickest paper ahead of time)
I ended up printing two prints just in case I made a mistake.  I didn't want to have to drive all the way back to the store.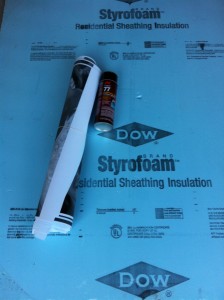 Next, I grabbed the 1/2 inch thick foam board, which you can purchase at your local hardware store for about $11 and removed the plastic protective cover from the foam.  It peeled right off.  (The huge board for $11 will make about 3 of these prints)
I then grabbed the 3M adhesive spray and flipped the photo over and coated it with the adhesive spray.  (Note:  You will need an extra set of hands to help you hold the paper down so it doesn't curl back up and stick to itself and ruin your print).
I then turned my print over and stuck it to the foam board.  I made sure all the bubbles of air (air pockets) were smoothed out too.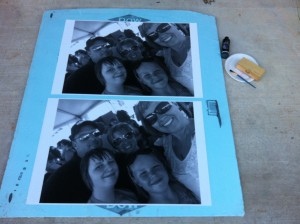 Then I grabbed my X-Acto knife and started cutting right up to the edge of the photo I just glued down.  My foam board was 1/2 inch thick so I took my time as I cute 1/2 way deep to make sure the line was straight and then went back over it to cut it all the way through.  (Tip:  the slower you cut it the smoother you edges will be.  If you try and rush it, you will get bumps that need to be sanded down)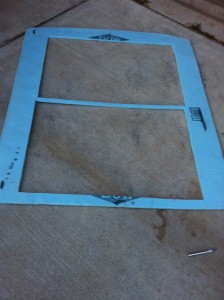 After I cut out both prints, I painted the edges of the foam board with black acrylic paints.  (Do Not Use Spray paints of any kind.  These will eat away at the styrofoam).  These paints can be found at your local craft stores and the small ones are about $1.  (I've even seen them at Walmart).
Tip:  You can do these steps in different order if you want.  If you tend to be a messy painter, you may want to cut the prints out before you glue them down so that you can paint them first, before applying the photo to the styrofoam.  If the prints are already glued down before you paint them, you have to be super careful not to mess up and paint the photo.
Here's a side view of the painted edge.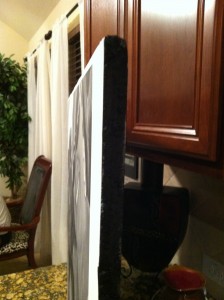 Next, I did something that YOU DON'T WANT TO DO!  lol…  I messed up big time.  I attempted to coat my print with Modge Podge gloss.  This caused my print to bubble up.  After the modge podge dried I was able to press down the bubbles but not without leaving a few noticeable creases in the photo print.  (This is exactly why I purchased two prints!)  My paper was the thicker kind and not the normal engineers print so I thought it would work fine.  It didn't.  Actually, I tend to wonder if I would have put two coats of the adhesive and really made sure all the bubbles were out if this would have worked.  I don't know.  I will tell you that the modge podge hardly makes a difference in the look when I hang it on my wall.  I could hardly see the gloss of the creases either.  So I decided from now on that there is no need for modge podge because it looks perfect with out it!
I placed it up on my fireplace mantel just to give you an idea of exactly how big it is.  This is not where I finally put it though.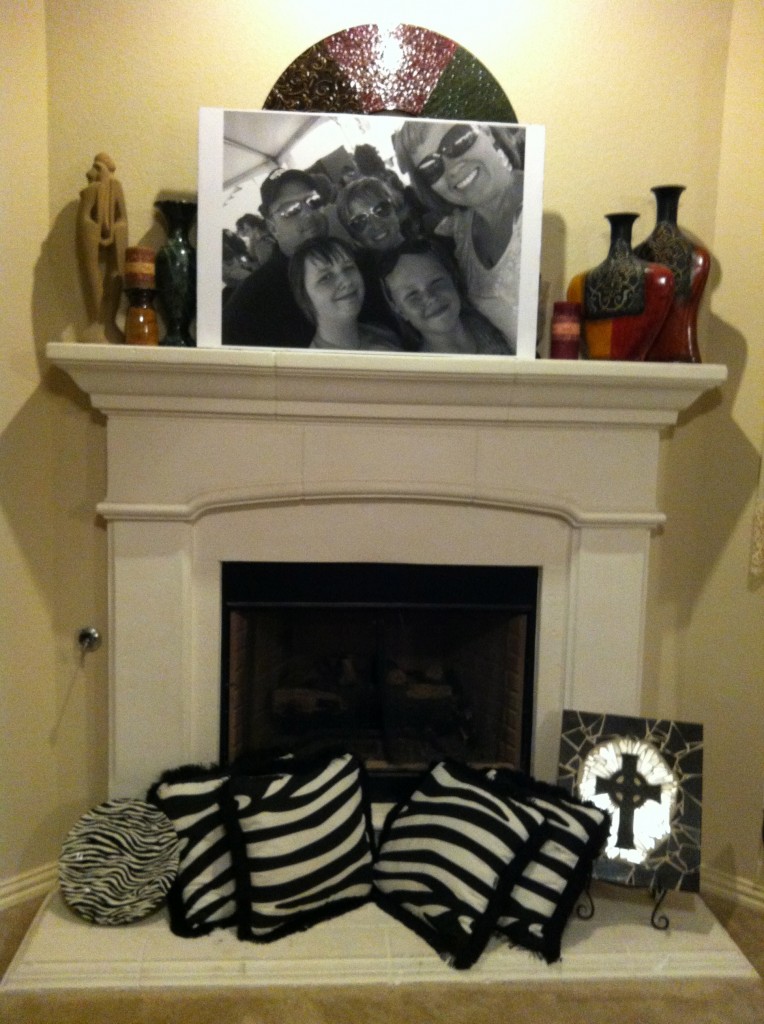 My last step was to hang the photo.  I purchased some 3M Command Medium Picture hanging strips just like the ones seen here on Amazon.  The foam is so unbelievably light, it makes it easy to hang without ruining your walls.  If you are looking for a more frugal way to hang your wall art, you may try to bend and cut a metal hanger and tape it to the backside of the board to hang it too. It really is that light!
Voila!  That's it!  A very night large digital photo print that I did myself!  It looks really nice hanging in my office too!  It really does look like it was done by a professional!
Enjoy~