Homemade Vanilla Ice Cream! Yummy!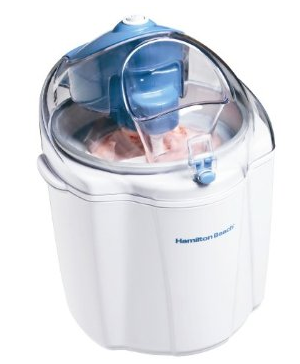 Homemade Vanilla Ice Cream Recipe
I just made homemade Vanilla Ice Cream this weeked! I ended up hitting up a few garage sales and I found aHamilton Beach Ice Cream Maker (brand new) at a garage sale for only $3!!! This baby sells for between $25 and $40 on Amazon! Wow!
I love making my own ice cream! In fact, We love to make our very own ice cream with baggies, rock salt and cream! It's fun and yummy!
I tried this "dairy free" Coconut Milk Vanilla Ice Cream recipe and it was delish!  You've just gotta try it!
Homemade Vanilla Ice Cream Recipe
2 – 14 ounce cans of full fat coconut milk
1/2 cup of Honey
2 tablespoons Vanilla Extract
Directions:
Combine all the ingredients above and mix together.  I found that using a whisk is best.  Then follow the instructions of your ice cream maker.  Voila!  The best "non dairy" ice milk that i've ever tasted!
I feel a bit spoiled with my new shiny Hamilton Beach Ice Cream maker (my garage sale bargain) because all I had to do was chill the container, add the ingredients and press a button!  Voila!  Ice cream within about 25 to 30 minutes!
Ok, so now, I am ready to experiment!  What ice cream flavor should I try next?  I love comments!  Whatch think?
Keepin' it simple my Friends!