Recipe: "No Bake" Oatmeal Energy Protein Bars! Kids Love Them!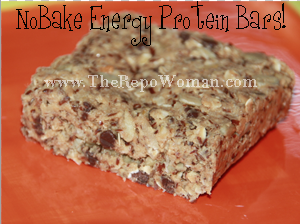 No Bake Oatmeal Energy Protein Bars Recipe
This is one of my favorite recipes! It's healthy, low sugar, packed with protein but most of all, the kids LOVE IT! Here's the best part… The kids even love to help make it too!
The possibilities are endless too! You can combine dried fruits, nuts, raisins etc… and make it how you like it!
Ingredients:
1 cup dry (non cooked) oatmeal  (I used quick oats)
2/3 cup coconut flakes
1 cup peanut butter
1/2 cup ground flaxseed
1/2 cup sunflower seeds (optional)
1/2 cup chocolate chips (I used the mini's)
1/3 cup honey
1 tsp vanilla
3 scoops of Powdered protein  (I used the ice cream flavor found here on Amazon)
Substitutions:
You can omit the chocolate chips and add cranberries, blueberries, apricots, dates, raisins or any other type of dried fruit combo you prefer. You can also switch out the sunflower seeds and add nuts too! I plan to make my next batch with Cashews! You can use any kind of peanut butter or even substitute that for Almond butter too.
Directions:
Combine all the ingredients above in a medium bowl.  I found it easier to mix it with my hands. Press into a pan and chill for at least 30 minutes. Voila! That's it!
Tip: Don't double this recipe. It makes it really hard to mix I speak from experience! 😉