Super Fast Breakfast Idea! Plus a Secret for Fluffy Eggs! Yummy!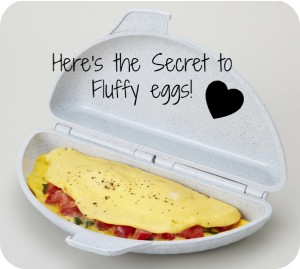 Fast & Easy Healthy Breakfast Option
plus a Secret for Fluffy Eggs!
If you are like me, I know you are very busy and rushed in the mornings!  I know every minute in the morning counts for me!  I try really hard to feed our family healthy options that are quick and easy and not just another sugary muffin just because it's quick!
I found one of THE BEST kitchen tools ever to help me with my quest!  It's called the Starmaid Microwave Omelet Maker!  Who knew this little amazing kitchen device would make my morning routine trouble free!
Now, I don't go all fancy with making an omelet as seen in the photo above but I do make some pretty darn good tasting eggs in it!  My sister in law can attest to that!  In fact, she's the one that inspired this post!  She had no idea this amazing kitchen gadget even existed and insisted I tell everyone about it!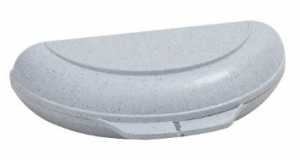 You can purchase this item on Amazon for only $6.29 and free shipping with Prime too.  You may check your local Walmart or Target too.
Here's how to make some of the fluffiest eggs ever:
First, spray the bottom of this omelet maker with cooking oil.  I tend to use olive oil but any oil will work.  This omelet maker will cook up to 4 eggs at a time.  I have only cooked two at a time though.
Crack open two eggs into this omelet maker and whisk them directly in the omelet maker (there's no need to dirty another dish).  Next, add a tablespoon of water. The water creates a steam while the eggs are cooking and that's the secret to fluffy eggs!  I love having that low fat option to fluffy eggs!  Another option would be to add milk or cream to your eggs too.  Try it sometime.
Note:  If you like to cook your eggs on the stove top you can add water to them there too.
Optional:  Add seasonings before or after you microwave it.  I love to add dill weed and sea salt with a dash of pepper to mine!  YUMMY!
Finally, microwave it for exactly 1 minute (for two eggs) and Viola!  That's it!
So how about that?  You get a healthy, low fat and protein packed breakfast in a minute!  It's amazing how the little things in life can make your day go so much better!
Enjoy and keep it simple my Friends!