Easy Gluten Free Brazilian Cheese Bread Recipe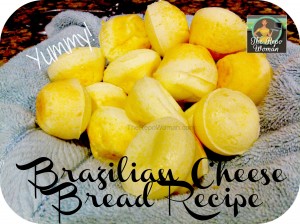 Easy Brazilian Cheese Bread Recipe
Who would have thought that making bread could be so easy!  I didn't until I tried this recipe!
My husband and I recently celebrated our anniversary at a very nice restaurant, Fogo De Chao.  It was an amazing restaurant but my absolute favorite part was the Brazilian Cheese bread!  This bread is simpilar to a Popover..  You know, crispy on the outside and chewy on the inside.
I just had to tell the manager how lovely his restaurant was and how amazing the bread was!  He explained to me that it's really not that hard to make either.
You have got to try this!  It's easy, fast and oh! so yummy!
Prep Time: 5 minutes
Cook Time: 15 minutes (or longer depending on your oven)
Ingredients:
1 egg (preferably at room temperature)
1/3 cup Olive Oil
2/3 cup Milk
1 1/2 cups Tapioca Flour (as seen here on Amazon or you can pick this up at your local natural health food store too)
1/2 cup (packed) grated cheese (I used Freshly grated parmesan on this one but I plan to experiment with many more cheeses in the future) I believe the restaurant uses Mexican Farmers Cheese – Queso Fresco
1 teaspoon of salt
Directions:
Preheat oven to 400°F. Grease a mini-muffin tin as seen in my photo.  Mix all ingredients together in a blender.  (yes, a blender!  That's not a typo!)  The batter comes out very watery looking.  Next, bake in the oven for about 15 minutes, or until all puffy and  lightly browned. Remove from oven and let cool on a rack for a few minutes.
Note:  These are best when you eat them warm (you can reheat them later, only takes 5 seconds in the microwave)
This recipe makes enough batter for 24 mini muffin sized cheese breads.
Enjoy!