DIY Photo Studio Lighting Box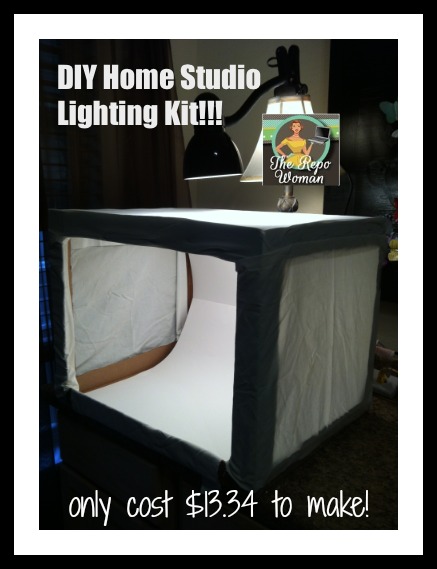 DIY Photo Studio Lighting Box!
Here's a DIY Photo Studio Lighting Box that is sure to fit any budget!  Let me first start off by saying that desperation leads to innovation! HA! I've been wanting a professional lighting tent kit for a long time now. I just cannot get myself to pay about $100 for one besides, I really didn't need it all that bad.
My daughter is a crafter and loves to sell Pokémon and Anime stuff on Etsy but her photographs sucked!  She always had to go outside and wait for the sun to be just right!  It's very frustrating because you will not sell anything if you don't have a "good" photo.
After looking at the construction of the "pop up" tents on Amazon, I decided I would try to make my own!  Guess What?!  It worked!  We did out own DIY Photo Studio Lighting Box and it works!!
Here's a test shot of an Anime figure I took with my iPhone.  This figure is about 2 1/2 inches tall and the colors are exactly the same in the photo as on the figure: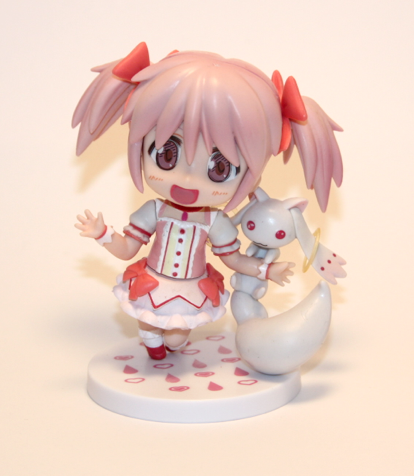 Here's a photo WITHOUT the Lighting Box: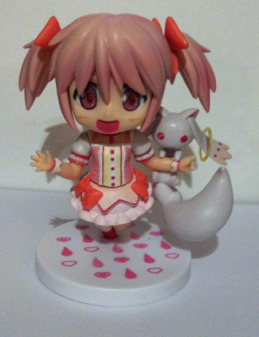 Items Needed:
Box (I used the 24x18x18)  I ended up purchasing a box a Lowes for only $1.36
Clamp desk lamp $10
Large Poster Board 99¢ each x 2 needed = $1.98
1 old flat sheet or pillow cases
tape
stapler
tape measure
scissors
Step by Step Instructions:
I taped the bottom of the box so it would remain secure and cut the top flaps off the box.  Then I measure 2 inches from the edge on all four sides of the box and cut out the middles like this: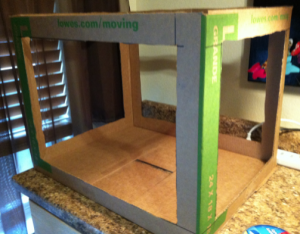 Then I taped together the two poster boards and laid it in the box and folded over the extra off the back of the box and secured it with tape.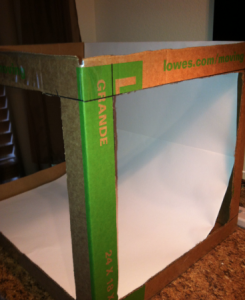 Next, I used two old pillow cases, cut them in half and stapled them to the sides of the box to cover the top, back and two sides.  Leave the front open.  This is where you will shoot your photo from.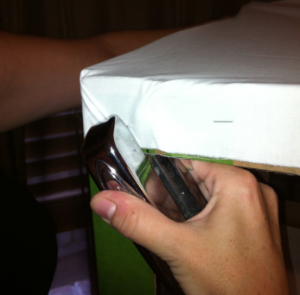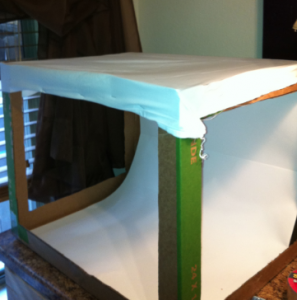 After all the sides where stapled or taped on I attached a clamp desk lamp to a lamp I already had in my office!  (Note:  I used a 100 watt light bulb and I could add two more clamp desk lamps on the side if I needed it any brighter but one was perfect for my needs)
Voila!  It's done!  It took about 45 minutes to make and only $13.34 out of pocket!!!  Not too shabby huh?!!!  If you are not the DIYer, I did find a deal on Amazon that may be worth it:
I know a lot of Moms that sell items on Craigslist, Etsy etc…  that will get a lot of use out of this Do It Yourself Home Studio Lighting Kit!
Happy Selling my Friends!