Warning ALERT: Fedex Email Virus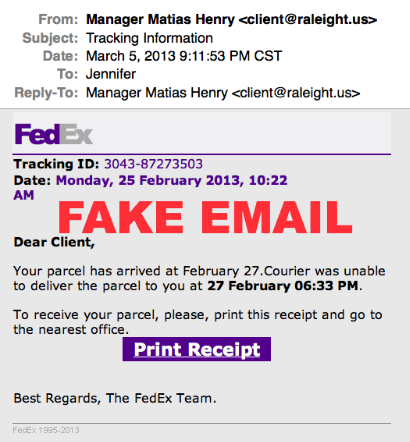 FedEx Email Virus
I want to tell everyone about the FedEx Email Virus that is circulating the internet.  The subject line is "shipping information" and the email comes from a Manager of many names.  Above is one that I just received today.  DO NOT CLICK the link in this email.  Please forward suspected fraudulent FedEx emails to [email protected].
Please note FedEx does NOT unsolicited emails to customers requesting information.
Tip:  Anytime you have anyone requesting information from you from Paypal, your bank, quickbooks or anyone for that matter, never click a link in an email.  Go straight to that url yourself and check the information they are requesting.
There are many variations of the FedEx fraudulent email circulating the internet.  You can see this alert on the FedEx site directly.
Plus here's a bit of very fun and interesting information about FedEx.  Have you ever noticed the subliminal "arrow" within the FedEx logo?!  Look very closely and you will see a white arrow between the letters "E" and "X" with in the name.
The FedEx logo is a design masterpiece!  It's won over 40 design awards worldwide and was ranked one of the eight best logos in the last 35 years in the 35th Anniversary American Icon issue of Rolling Stone Magazine!  Lindon Leader is the designer behind the FedEx logo.