Tip!!! Girl's Short Hair Cut with a Style Twist!!!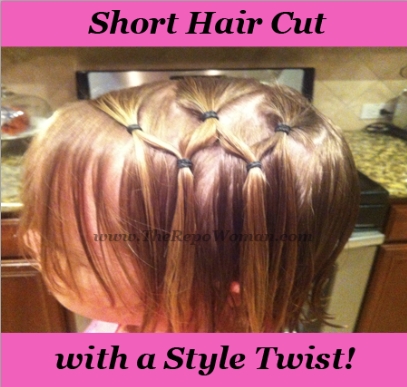 It's a girls short hair cut with a style twist!
First off, I just have to tell you that I have the pickiest 7 year old ever when it comes to her hair!
She is not the girlie, girl and she won't wear pony tails, ribbons or bows and That's Final!  (I'm certain other Moms can relate to this attitude!)
With that said, I finally found a cute "hair do" that she, and I enjoy!  As it turns out, she received many compliments about her hair today too!
Here's how to do it:  Part the hair off to the side (not down the middle).  Take the side with more hair and use the very small rubberbands (Like these found on Amazon to give you an idea) and split off three sections.  Next, split the first section and the second section in half and tie those together with a rubberband.  Finish the last section and Viola!  That's it!  Easy Peasy!
I hope you and your daughter enjoy this as much as we did!